Charlemagne guides through Aachen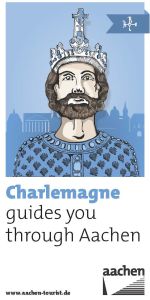 "Dear Aachen visitors
"… I welcome you to Aachen." With these words Charlemagne personally welcomes the readers of the small city guide "Charlemagne guides you through Aachen". Shortly the aachen tourist service e.v. (ats) will reissue the popular reading matter with in total 6000 pieces. In a new design the city guide for the first time will be published, besides German and English, in Dutch and French. With this convenient brochure Aachen visitors can explore the imperial city and its sights, monuments and fountains on their own. The special thing about it: In between Charlemagne will personally speak to you and describe the life in his favourite city with amusing anecdotes and exciting background information. During the in total 1.5 kilometres long round tour tourists follow 140 bronze nails, which have been imbedded in the ground throughout the city. On the back of the cover of the city guide a detailed layout plan is found showing the location of the metal pins decorated with the well-known Charlemagne seal.
The tour starts at the Elisenbrunnen and leads over Büchel, Hof, Hühnermarkt, market square, Pontstraße, Katschhof and Münsterplatz and back to the starting point. A group of three nails each marks a sight, while single nails document the course of the route.
"Charlemagne guides you through Aachen" will be available for 3.90 Euros in the Tourist Info Elisenbrunnen.
Special gift tip: The nails with the Charlemagne seal can also be bought at the ats. The high-value present costs 49.95 Euros.

aachen tourist service
Tourist Info Elisenbrunnen
Friedrich-Wilhelm-Platz
52062 Aachen
info@aachen-tourist.de

Business hours:
mon - fri 10.00 a.m. - 6.00 p.m.
sat 10.00 a.m. - 2.00 p.m.

from 01.04. - 24.12. the office is also opened:
sat, sun + holidays 10.00 a.m. - 3.00 p.m.