New souvenirs around Charly the Little
He is little, funny and his greatest passion is the Aachen Printen: In his comics Charly the Little always experiences thrilling adventures. Currently on the market are the comics "Die Stadt der Printen" (The Printen city) (Price: 11.90 Euros) and "Karl der Kleine bei den Karolingern" (Charly the Little at the Carolingians) (Price 8.50 Euros). For all those who are no longer satisfied with comics the aachen tourist service e.v. developed a mug (Price: 8.95 Euros), a magnet (Price: 2.95 Euros) as well as a key pendant (Price 3.95 Euros) of the Printen fan Charly.
Coffee breaks in the morning with Charly the Little
With the new coffee mug of Charly the Little you will enjoy your start into the day twice as much!
Price: 8.95 Euros
Strong hold with the magnet of Charly the Little
The magnet Charly the Little (dimensions: 8 cm x 5 cm) on which the Printen fan Charly can be seen together with the Aachen national pastry provides for strong hold.
Price 2.95 Euros
Key pendant
For all those who would love to take the little one always with them, the aachen tourist service e.v. offers a key pendant in the form of the funny emperor.
Price: 3.95 Euros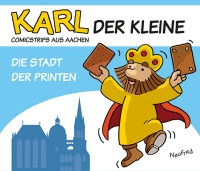 Charly the Little and the Printen city
On 48 pages, the book shows Charly the Little in different situations of his life. Aachen locals can discover a lot they know – the Elisenbrunnen (Elisa Fountain) often is the venue of the stories as well as the cathedral, the town hall or the university clinic. Also Lennet Kann, Granus the water god and the devil regularly appear in the colourful comic strips. This way locals and visitors learn a lot about the emperor Charlemagne in an amusing way.
Price: 11.90 Euros
Charly the Little at the Carolingians
In the second comic strip Charly the Little together with his friend Barki, the AKV-mascot and great grand-son of the legendary Bahkauv, makes a journey into the era of the Carolingians where he meets his namesake Charlemagne. Here historical events are explained in lovingly made drawings.
Price: 8.50 Euros



All products representing Charly the Little are available in the info point Elisenbrunnen.

aachen tourist service
Tourist Info Elisenbrunnen
Friedrich-Wilhelm-Platz
52062 Aachen
info@aachen-tourist.de

Business hours:
mon - fri 10.00 a.m. - 6.00 p.m.
sat 10.00 a.m. - 2.00 p.m.

from 01.04. - 24.12. the office is also opened:
sat, sun + holidays 10.00 a.m. - 3.00 p.m.